Detroit Axe

Has Arrived

in Corktown
Ready, Set,

Throw
Play lumberjack for a day and bury the hatchet deep into a wooden target or two at Detroit Axe. Located inside The Yard at Corktown, Detroit Axe allows you and your friends the opportunity to enjoy an out-of-the-ordinary activity. Step up to the line, grab an axe, and take your aim for the bullseye.
Detroit Axe is the perfect activity for everyone to participate in. Walk-ins are available at $20 per person for one hour of axe throwing, and reservations are the ideal experience for parties of six or more. Each arena will have a dedicated axe master there to help coach you to victory and keep everyone safe. Play a game of cricket, test your hand at a one-handed throw, or simply try to get the technique down and the axe to stick—however you choose to play, a good time is sure to be had by everyone.
When the competition dwindles down and a winner is crowned, the fun and excitement aren't over! Take a seat where the winners come to brag about their accomplishments—on the giant throne made of axes. Snap a quick photo and claim your right to be the axe-throwing king or queen amongst your group for the remainder of the evening.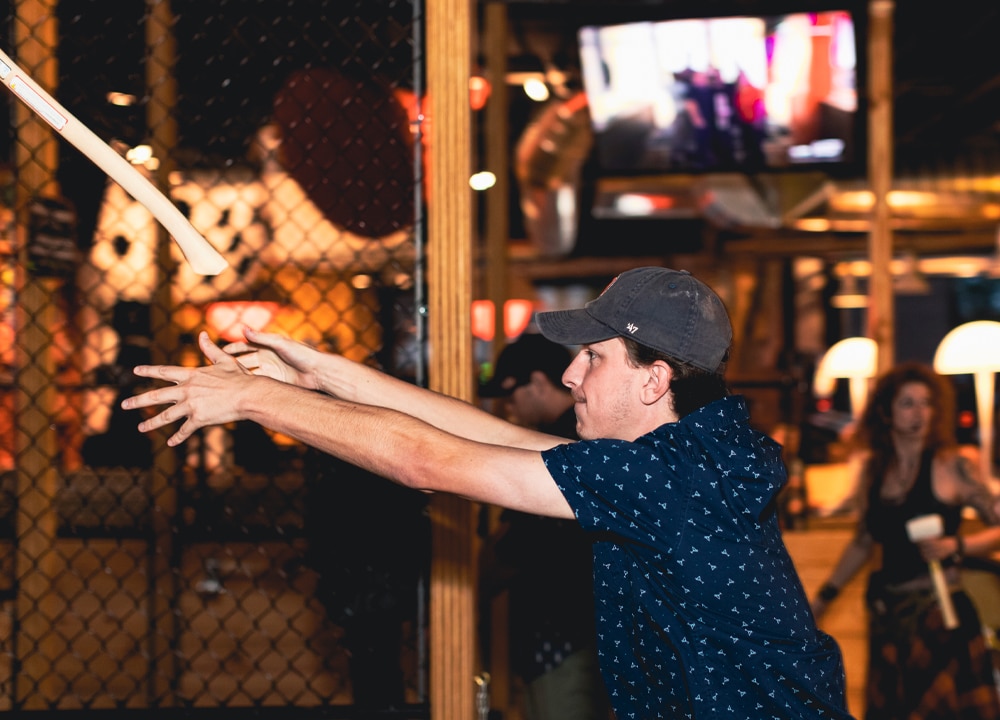 All Your Axe Throwing Questions

Answered
You bet we do! It wouldn't be a friendly competition without a league of dedicated axe-throwers looking to dominate their opponent. For $100, you can be a part of a league that meets once a week for seven weeks. Simply register for the league day you want to play in and show up on week one.
For more information about our axe-throwing leagues, visit our leagues page today.
Drinking alcohol is strictly prohibited while throwing axes. Guests can consume alcohol before or after their throwing session but never in the axe-throwing arena. This area is clearly marked by a yellow line, and no alcohol will be permitted beyond this point.
Our axe-throwing experts reserve the right to end your game or refuse your reservation if you are too heavily intoxicated. We're not trying to ruin your good time, we just want to keep you and other participants safe during this experience.