Fuel Your Body

for Hours of Fun in Detroit, MI
Life's Too Short for Anything Less Than

Great Food
Welcome to The Yard, where the only thing we like better than talking about food is eating it. We don't believe in enjoying our interactive space without proper fuel for your stomach and drinks to keep you hydrated (and a little loose). Whether you prefer margaritas with your board games or plan to crush the competition while eating spicy nachos, our friendly staff and delicious taco truck can keep gameplay going all night long.
Finish off your evening under the stars and cozied up by one of our bonfire pits. What's a bonfire without a s'more, though? Don't worry, we're way ahead of you!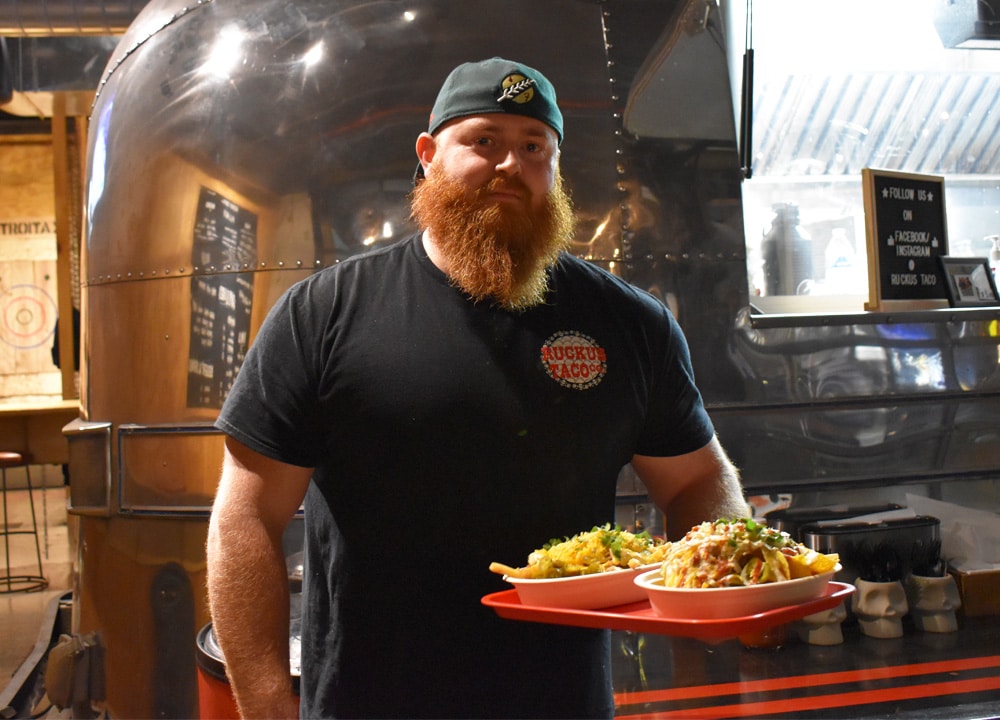 The Answer is Always

Tacos
So you've finished a round of cornhole and lost miserably to the opposing team—do you want to taco 'bout it? We didn't think so. Instead, take a stroll over to our resident taco truck, Ruckus Taco, and create the ultimate meal to forget about the tortilla-shredding defeat you suffered at the hands of your opponent. Located directly inside our entertainment venue, you can play chef for a day with a DIY nacho, taco, and burrito bowl bar. Get loaded on loaded fries or head straight into a sugar high with some homemade churros. At Ruckus Taco, the possibilities are endless—and yes, we know the guac is extra.
Ruckus Taco

Menu
Fillings
Adobo grilled chicken
Chorizo
Seasoned ground beef
Chili lime cauliflower
Carne asada
Add $1 per taco & $2 for nachos or bowls
Tacos
2 for $8 or 3 for $11
FLOUR TORTILLA STYLE:
Choose your filling, salsa roja, lettuce, shredded cheese, chipotle lime crema
SOFT CORN TORTILLA STYLE:
Choose your filling, onion, cilantro, chipotle lime crema
Bowls
Choose your filling, cumin lime rice, ranchero style pinto beans, salsa roja, lettuce, cheese, onion, cilantro chipotle lime crema $12
Nachos
Choose your filling, house queso, salsa roja, shredded cheese, cilantro, onion, lettuce, pickled chillis $12
Fries
FRIES:
House Seasoned $6
LOADED FRIES:
Choose your filling, house seasoned, queso, shredded cheese, cilantro, pickled chilis $12
Chips & Sides
CHIPS WITH:
Queso $6
Salsa roja $5
Guacamole $7
Triple dip $12
SIDES ONLY (2 OZ):
Queso $1
Salsa roja $1
Pickled chilis $1
Dessert & Drinks